Bright and modern family chalet at the foot of the slopes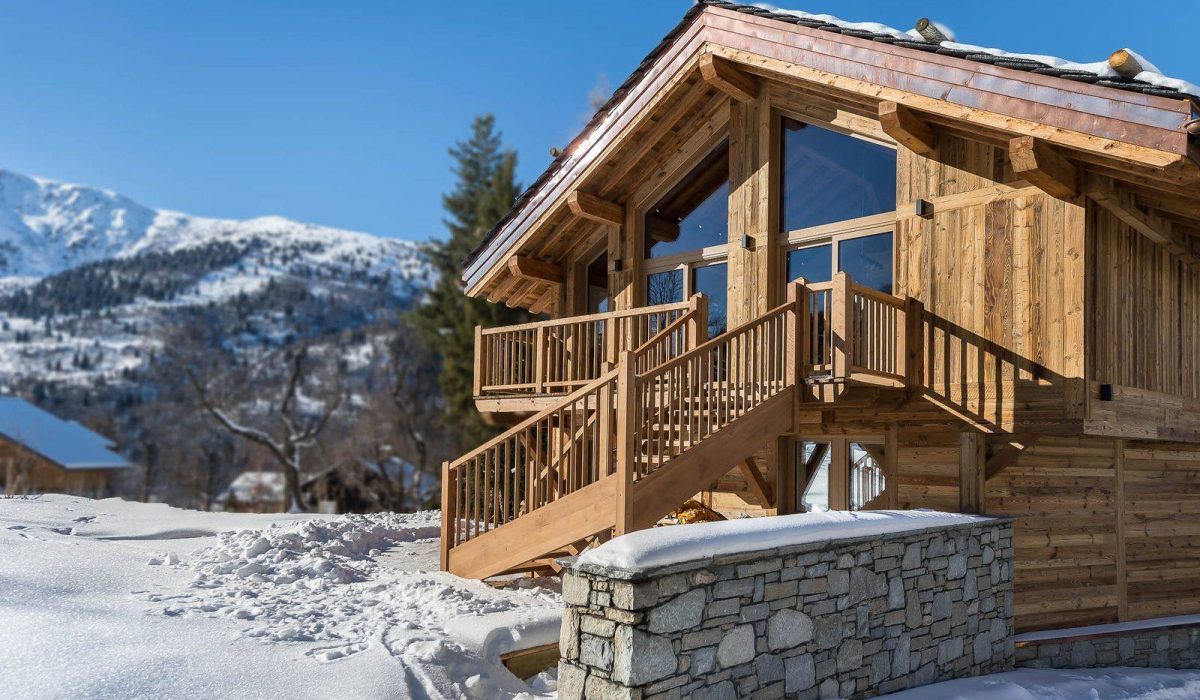 The essentials of Chalet Bozel
Stay at Chalet Bozel
With an ideal location close to the slopes and shops, this bright chalet combines authenticity and modernity. Spend a moment of relaxation with a sauna and an outdoor jacuzzi. A lounge specially dedicated to children.
Chalet Bozel is one of the most authentic chalets in Méribel Village. Entirely rebuilt by an architect, respecting the spirit of the original chalet, the exteriors are identical to the old ones with a more contemporary dimension. Made of old wood and stone, the facades of this family chalet fit perfectly into its environment.
Part of the furniture was built in the same wood as the rest of the chalet giving an exceptional cachet. The local spinning mill Arpin supplied the curtains and the headboards which provide warmth thanks to mountain wool. The use of noble and local materials such as old wood, wool or stone, natural tones make Chalet Bozel a family chalet where it is good to stay.
With 6 bedrooms, Chalet Bozel can accommodate up to 10 adults and 4 children.
Chalet Bozel has 3 magnificent double bedrooms, where 6 guests will find comfort and tranquility after a long day on the slopes. The superb master bedroom will delight parents who will dive into a refined bedroom, perfect for relaxing.
The bedroom with 2 bunk beds will be ideal for young adults who no longer want to be with the children. Children will be delighted to invest their privileged space, separated into 2 parts under the existing terrace. They will be delighted in the 1st part to share a large bedroom just for them, with two hanging beds and two double beds.
The second part will be one of their favorite places: a very cozy television room. Upon entering, you will be struck by the superb backlit photo of the Bozel forest which gives the impression of an open window to the outside. Comfortably installed, you can spend privileged moments with your family. On the same level is an independent bathroom in which you can bask in the dry heat of the sauna, or relax in the spa bath.
The living room on the top floor is a significant advantage. An open volume under an old wood frame with kitchen, dining room and living room is perfect for bringing the whole family together in a through room bathed in natural light. The living room is divided into two: a corner with a television and fur seats for cozy comfort, and a part with large gray sofas arranged in a square for convivial meetings. Both are warmed by the imposing stone fireplace which will welcome you at the top of the stairs.
For your convenience, the cleaning is daily in the chalet Bozel with a governess 3 hours a day.
Chalet Bozel is a chalet that will delight families looking for unforgettable memories in the French Alps. Its beautiful volumes and luminosity throughout the day, its dedicated spaces and the conviviality it exudes make it the family chalet par excellence in Méribel.
Pointe de sel will organize for you your all-inclusive stay tailored to your needs, with the rental of the chalet, the catering based on local Savoie products and the activities for all with our partners, so that you only have to enjoy them and make memories.
Chalet Bozel is composed as follows:
DRC :
Relaxation area with spa bath, sauna,

A bedroom with 2 single beds, en suite with shower room,
A bedroom with 2 bunk beds (sleeps 2),
A TV lounge adjoining a children's room with 2 single beds and 2 hanging beds (4 beds in the room),

Outdoor hot tub.
Level 1:
A bedroom of

e master with balcony,

180 double bed and en-suite bathroom with bath and shower,

A bedroom with a double bed

in 180 separable in suite with

bathroom,

A bedroom with a 160 double bed and en-suite shower room.
Level 2:
Very large open living room under frame, with balcony, open kitchen,

chimney,

Laundry room.​
Double bed 180 in suite with bath and shower
Double bed in 180 separable in suite with shower
Double bed 160 in suite with shower
2 single beds en suite with shower
2 single beds and 2 hanging beds (sleeps 4)
By train: Moutiers-Salins-Brides-les-Bains station. Travel time from:
- Paris 4h38.
- Lyons 3h03
- Marseilles 5h27
then 30 minutes of transfer.
By car from:
- Paris 6h20.
- Lyons 2h48
- Marseilles 4h28
By plane Geneva or Lyon airports (2h30 transfer)
Rental from Saturday to Saturday
When booking, a deposit will be required to cover any potential damage during your stay.
Cancellation and prepayment conditions vary according to the type of option and the chalets. Thanks for contact us for more detail.
With Pointe de sel, your stay at Chalet Bozel is all-in and tailor-made.
DISCOVER OUR OTHER CHALETS